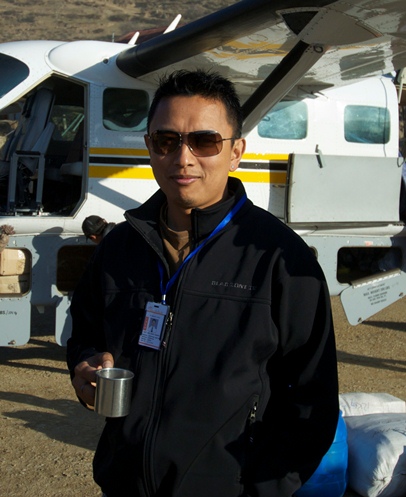 Scroll down for audio interview!
Those of you who have been following Oddball Pilot know that I had an opportunity to fly in Nepal this past Spring. I was working as an instructor pilot in a Caravan for Goma Air, a new airline in Nepal. Goma was started by a group of experienced pilots and a couple of businessmen. One of these pioneering pilots (and the Director of Operations for the new company) is Captain A.D. Sherpa.
A.D brought a wide range of experience to Goma Air, from flying twin Otters into the STOL strips of western Nepal, to flying ATRs in a formal IFR environment in India. He made the hard decision to give up the steady airline job and return home to start a small airline at home with some friends. Goma Air went from idea to reality in just seven months.
A.D.'s personal story, and the story of Goma Air, is interesting. So is the path an aspiring Nepalese pilot must take to become a commercial pilot: there are no flight training facilities in Nepal, so all the training needs to take place somewhere else.
A.D. was also one of the first pilots I worked with in Surkhet. He's a really good pilot. Most of us can learn how to pilot a plane with a high degree of competence, but there are a few pilots out there who seem to have a natural grasp for how a plane interacts with the air. A.D. is one these. Needless to say, it was a pleasure to work with him.
All the Nepalese pilots I met were naturally self-deprecating, and disinclined to talk about their own accomplishments (very unusual for a group of pilots!). So it took a fair amount of pressure to get A.D. to sit down and talk about himself. I did eventually corner him, and it was well worth the effort.
In this interview you'll hear about:
What it was like for A.D. to go to the Ukraine for flight training, instead of heading to the U.S. like most Nepalese pilots did at the time.
What it was like to start with 10-15 hours of glider flying, and then move into a single engine Yak 322 and a multi-engine Antonov An-28 during his flight training.
How entry-level flying jobs in Nepal differ from those in other places.
Why there are no flight schools in Nepal.
His progression from flying a twin Otter, to a Harbin Y-12, to a Jetstream 41, to an ATR 72, to a Cessna 208 Caravan.
Why there's a long apprenticeship in the right seat for most Nepalese airlines.
What it was like to get his ATP in the U.S., and make the transition from the right seat to the left seat.
How Goma Air went from an idea to an operating airline in seven months, and why they bought Caravans instead of Twin Otters.
Why most Nepalese now go to the Philippines or South Africa for flight training.
The limited opportunities for foreign pilots in Nepal.
The challenges of flying in Nepal.
The advantages of not flying for a big airline.
How the Caravan compares to the Twin Otter.
Press the Play icon to begin streaming the audio, or right-click the text link and choose Save As or Save Link.
Audio clip: Adobe Flash Player (version 9 or above) is required to play this audio clip. Download the latest version here. You also need to have JavaScript enabled in your browser.
Right-click to download the MP3 file (35 minutes – 32 MB)
Did you like this interview? Leave your comments and questions below.