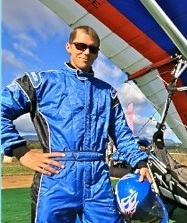 Scroll down for audio interview!
When Mike and I started this website I imagined that I'd spend a lot of time interviewing chief pilots, airline owners, and sage old pilots with a lifetime spent in the cockpit. I'd be picking their brains for all their accumulated knowledge to pass on to a younger generation of pilots seeking a more adventurous path through the skies.
Certainly this has been true much of the time. The older pilots have great stories to tell, and worldly advice to pass on. However, this summer while flying for Talkeetna Air Taxi, I started to listen to some of the younger pilots I was working with. The more I listened, the more interested I became.
Tyler Westhoff's tale of his start in aviation was one of the more fascinating ones. From zero time to flying TAT's Turbine Otter in three years! That's pretty impressive. Especially over the last few years as it's been an employers' market. It took all summer for me to get the story out of him, and it took some convincing to get him to record an interview.
Tyler first became interested in flying while in Talkeetna in the summer of 2004. Watching the TAT planes taking off for the Alaska Range each day, he decided that flying was what he wanted to do—that kind of flying. He stayed very focused on that goal from the moment he started working on his Private Pilot's license.
He looked for the quickest way to start making money while building enough time for Paul Roderick to hire him at TAT. This turned out to be flying gliders commercially, and towing gliders in an L-19 Bird Dog … in Hawaii. Both of these jobs can be done before you get a commercial powered license. They also have the advantage of being excellent ways to improve stick and rudder skills. He then moved on to flying open-cockpit weight-shift control ultralights, which evidently can pay more in Hawaii then flying the island-hopping Caravans! The job was lots of fun, the flying was just about as cool as you can get, and he had the afternoons off to go surfing. Not bad for a guy who only had a few hundred hours.
Tyler stayed in contact with TAT, and when he had the required minimums for part 135 flying, Paul hired him to fly the Cessna 185 and the de Havilland DHC-2 Beaver. Two years later he started flying the DHC-3 Turbine Otter, the king of mountain flying.
These days Tyler commutes between Hawaii in the winter and Alaska in the summer. Not bad for a young guy in his 20s …
So, check out the soaring sites closest to you and see if they need any pilots to fly the tow plane on the weekends. Getting a glider rating will probably increase the chance that they will say yes.
Other good jobs for low time pilots are flying skydivers and banner towing. I started my flying career flying skydivers. The pay wasn't all that great, but it was on one of the most fun flying jobs I've ever had. Plus, I got to make cheap skydives!
To make it easier to find a soaring or skydiving site near you, soon we'll be posting a list of U.S. operators in our Operator Directory. For those of you who don't live in the States, I know there are similar opportunities in Europe, South Africa, New Zealand, and Australia. I suspect that some Central and South American countries also have both skydiving and gliding operators. I'm not so sure about banner towing. We'll keep looking into it, and we'll let you know what we can dig up.
In the interview (recorded in a Turbine Otter on the ramp in Talkeetna) you'll learn:
How to decide whether to learn to fly in a tail-dragger or in an airplane with conventional landing gear.
How flying gliders helps you become a better stick-and-rudder pilot (especially after landing).
How you can get a Commercial Glider Pilot license very quickly.
Why commercial glider flying (giving tourists rides) is a great way to build time, and why Hawaii is a great place to do it.
What it's like to transition from a powered aircraft to a glider.
What it takes to become a tow pilot.
How some low-pay flying jobs (like flying glider tours in Hawaii) are worth it for the lifestyle they enable!
About the thrills (and challenges) of giving instruction in an open-cockpit weight-shift control ultralight.
How flying squirrelly tail-draggers in Hawaii helped Tyler when applying to TAT.
What it's really like to split your time between flying in Alaska in the summers and Hawaii in the winters.
What the lifestyle of a glider/ultralight pilot in Hawaii is like (hint: you can go surfing before and after work).
About the importance of creating opportunities for yourself … instead of just waiting for them.
Tyler's best piece of advice for pilots who want to get a job flying in Alaska.
The difference between glider flying with a tow plane versus a winch.
Why showing up in person is the best way to get a glider job.
The challenges of being a tow pilot.
Interview
Press the Play icon to begin streaming the audio, or right-click the text link and choose Save As or Save Link.
Audio clip: Adobe Flash Player (version 9 or above) is required to play this audio clip. Download the latest version here. You also need to have JavaScript enabled in your browser.
Right-click to download the MP3 file (26 minutes – 24 MB)
Did you like this interview? Leave your comments and questions below!
Operators
These are the operators discussed in this interview:
(Update 2/13/12: our new Glider Operator Directory is up.)
Videos
Here's a peek at what the flying is like in Alaska and Hawaii:
Flight Simulation
Want to do some virtual flying around Hawaii to see what it's like? Mike recommends these add-ons for Microsoft Flight Simulator X:
Oahu
Kauai
VFR Kauai Hawaii X (Fly the default FSX AirCreation Trike)