Scroll down for videos!
Back when Oddball Pilot was just an idea that Mike and I were tossing around, I was flying a marine mammal survey contract up in Barrow, Alaska. One day my co-pilot Chris Palm and I made this video. The idea was to give pilots a realistic look at a typical Alaska air taxi operation. Ironically, the Discovery Channel crew was up there too, having just started shooting footage for Flying Wild Alaska. Chris and I were out on the ramp with my little Flip video camera, while the Discovery guys were using professional equipment. While their quality may be better, I think our video captures the feel of a working base better!
Barrow is the northern-most town in the United States. Point Barrow (7 miles outside town) is the northern-most point. Traditionally, pilots are paid more in Barrow then at other Alaska stations. They also tend to put in more hours of flying per day. As a result, Barrow is often a senior base for an Air Taxi, despite its remote location. Currently Era Alaska is the only scheduled air taxi service based in Barrow. There are several other companies that do unscheduled work there. Bald Mountain Air Service and Clearwater Aviation both contract for surveys in Barrow and on the North Slope. Alaska Air Taxi also does some work east of Barrow out of Deadhorse.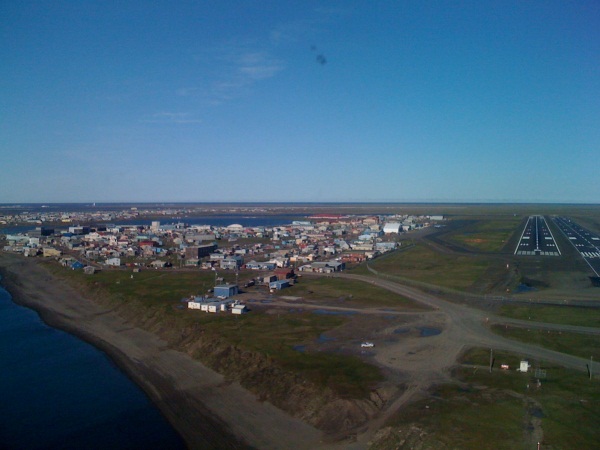 I've always found the flying around Barrow to be some of the easiest in the state. Despite the rotten weather, the flights are relatively long, the runways are good, and it's the flattest terrain in the world! I once commented to a friend that the ocean had more bumps then the tundra around Barrow.
Still, there have been lots of fatal and even more non-fatal accidents around Barrow, starting with the Wiley Post/Will Rodgers fatal accident in 1935 and continuing into modern times. Hageland has had three fatal accidents around Barrow since starting operations there in 1997. Like much of Alaska the weather changes quickly. Often the fog sits of the end of the runway all day long. A small change in the wind direction and it rolls over the tarmac cutting your options down considerably. So, pay attention!
Another flying gig in Barrow is the North Slope Search and Rescue. They are well funded, have great equipment, and provide a very useful service. I even got a ride in one of their Bell 214 helicopters after a unexpected landing in a river (I wasn't the pilot). I'll be getting more info on their operation in the coming months. They would be great to work for!
Living in Barrow: Not bad. Barrow is part of the North Slope Borough. The NSB received a huge influx of funds (billions of dollars) when oil was discovered in the 1970s. As a result, there are good facilities in Barrow. There are several gyms, including a climbing wall at the rec center, two or more grocery stores, a roller rink, numerous restaurants, a Wells Fargo Bank, and a decent road system. That being said, the pilot house is probably not the newest house in town. Era charges pilots a minimal rent, the cost of living is high (I've seen 8$ for a gallon of milk), and you will need some form of transportation to get to work in the morning. I think Era lets the pilots use the company van at night.
Expect similar conditions at most of the primary hubs in Western Alaska. Conditions will change slightly from operator to operator and base to base. The conditions will often vary by the shift as well. Some pilots stay up late partying, creating a frat house feel in the pilot house. Other pilot houses are more reserved. Of course, you can rent your own place at about triple the cost of the pilot house. Some companies don't charge rent for pilot housing, and provide a living stipend for pilots who rent on their own.
We have a real discussion about the living and working conditions is in the works, but hopefully this video will give you a rough idea about what to expect if you choose to work in a place like Barrow.
Video: Era Alaska Base and Cessna C208 Caravan Walkthroughs
This video (shot in July of 2010) includes:
A tour of the Era Alaska building in Barrow.
A walk through the passenger terminal.
A look at how the cargo operation works.
A brief explanation of the bypass mail system (which is apparently now at the center of an interesting political battle).
An explanation of the difference between "freeze" and "chill."
A look inside the Cessna 208 Caravan.
Lots of footage of cargo being loaded into a Caravan so you get a sense of how much stuff one of these planes can carry (and how much physical labor is required to get it all on board).
A quick look at a Caravan cockpit.
Did you like this video? Scroll down to leave your comments and questions!
Video: Barrow Landings
While flying the mammal survey contract in an Aero Commander, I shot some video of the approaches into Barrow. This should give you a sense of just how flat it is up there! The airport was in the process of switching over to a new runway (7/25), so you'll see two runways  next to each other. Come ride along on a few landings (that's the biologists in the back of the plane) …
This video includes:
VFR approach to Runway 24, landing, and taxi
VFR approach to Runway 7, landing, and taxi
Did you like this video? Scroll down to leave your comments and questions!
Flight Simulation
If you want to get a sense of what it's like to fly around Barrow, Mike says the add-ons to get for Flight Simulator X are:
Cessna C208B Grand Caravan HD Series and Super Cargomaster Expansion Pack by Carenado
Ultimate Alaska X by Flight1 (old runway 6/24 at PABR)
There's freeware scenery that includes the new runway 7/25 available at FlightSim.com (search the File Library for "pabr_fsx_tav.zip").
More Information
Wiley Post–Will Rogers Memorial Airport