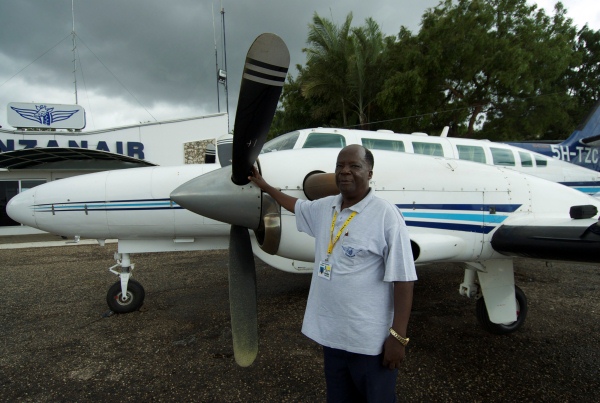 Scroll down for the audio interview!
This interview is a slight departure from our last few posts about the frozen north! Maybe it's because I'm back flying in Western Alaska this week where the temps have been hovering around -8 F with a brisk breeze. The cold weather is making Tanzania sound like a luxury vacation!
Over the last several years I've ferried several planes over to Tanzania and Zanzibar (Tanzania's island neighbor) and even managed a quick overnight safari on one of the flights. It wasn't until I had Chris Manley, a British ex-pat who was flying out of Mwanza, fly along on one of the flights that I really started to view Tanzania as a potential country to fly in full time. 50 hours of oxygen-deprived conversation will do that to you.
Tanzania is one of the major tourist destinations in Africa. There are numerous national parks, as well as the highest peak on the continent: Kilimanjaro. It's also one of the more stable countries in Africa. To me, it seems like a nice place to spend some time. Like many places that are pleasant to live in, the pilot pay isn't going to be as high as in other, rougher, countries. But the low cost of living makes up some of the difference.
Zanzibar is a great island destination just off the coast of Tanzania. Zanzibar has lots of good water sports and a relaxed island ambiance.
It took another year but finally, last September, I managed to sit down with the chief pilot of a local Tanzanian airline and get a feel for what they were looking for. It turned out that Captain K.H. Kondo, Chief Pilot of Tanzanair, had a wealth of information about flying in his backyard.
Kondo, a native Tanzanian, had been flying in Tanzania for most of his career and had amassed over 23,000 hours flying throughout the country (with 12,000 hours in the Cessna 206). He had started as an enlisted soldier in the Tanzanian military, and was one of the few personnel to get picked as a flight candidate. He completed his advanced training in Canada. After a lengthy military career he moved into the private sector, ending up with Tanzanair in Dar es Salaam, the capital of Tanzania. Along the way there were many memorable experiences, some of which he talks about in the interview.
Tanzanair is one of a handful of airlines in Tanzania, and was the first private civilian airline in the country. They struck me as an airline that places a lot of value on keeping their pilots around for the long term. I suspect that the pay scale and time off is favorable when compared to some of the other local companies. They are an all-charter airline with seven operational aircraft and 12 pilots currently working for them.
Tanzanair's customers are mostly tourists and big game hunters, a bit of contract work for the gold mines, and international humanitarian organizations. This seems to be a pretty standard mix for the small airlines in Tanzania.  Flying in Zanzibar, which is part of Tanzania but maintains an independent government, is almost all tourist traffic.
The main airline bases in Tanzania are:
Dar es Salaam
Arusha
Zanzibar international Airport
Mwanza
Moshi
Kigoma
Tabora
Kilimanjaro International Airport
There is some talk these days of foreign pilots being banned from flying in Tanzania, but as of last fall it seemed that they were still welcome and that it was possible to get hired over the Internet. Many of the pilots I met were European or South African. At this time, I don't think there are any local flight schools in Tanzania. Any Tanzanian with aspirations to become a pilot would have to attend a flight school outside the country. This contributes to the expense of acquiring the required ratings and makes it difficult for most Tanzanians to become pilots.
If you're interested in pilot jobs in Africa, you'll find this interview interesting. We'll post a video walkthrough of a Cessna 406 soon.
In this interview you'll hear about:
How Captain Kondo wanted to be an aircraft engineer, but got told by the Army that he should be a pilot instead.
His training in Montreal, Canada, in 1975, including being trained as an instructor for a new Tanzanian military flight school.
His ten years as a military flight instructor.
Instructing in a Chinese MIG-19 (and the surprising thing he didn't like about the job).
His transfer to flying cargo and personnel in the de Havilland DHC-4 Caribou and DHC-5 Buffalo, in and out of remote strips.
Leaving the Army in 1987, his first flying civilian job flying a Cessna 182 (making more money than flying the MIG-19!), and how being initially trained at a civilian school made the transition from the military to civilian flying easier.
His experience working for Transair, giving flight instruction to air traffic controllers, and how it led to his being hired by Tanzanair in 1988.
The changes he's seen in Tanzanian aviation over the years.
Tanzanair's maintenance facility.
The Tanzanair fleet and how each aircraft is used.
Why helicopters are now used in transporting gold from mines instead of King Airs.
Captain Kondo's 12,000 hours in the Cessna 406, and what he thinks of the aircraft.
A 406 crash at a remote strip, rebuilding it, and flying it out.
Secrets to judging the wind at bush strips.
Flying opportunities for Tanzanians.
How in Tanzania you need to take a type rating exam for each aircraft you fly.
The advantages of hiring Tanzanians, but why Tanzanair will hire foreign pilots.
How a foreigner can get a Tanzanian pilot's license and ratings for specific aircraft.
Tanzaniair's unique philosophy regarding contracts and holding onto good pilots.
The flying schedule for Tanzanair pilots (including occasional multi-day trips to distant airports).
Why Tanzanair is an all-charter airline.
Why oil company contracts help airlines keep their aircraft maintained and up to the latest safety standards.
How many hours a typical Tanzanair pilot flies each month.
Interview
Press the Play icon to begin streaming the audio, or right-click the text link and choose Save As or Save Link.
Audio clip: Adobe Flash Player (version 9 or above) is required to play this audio clip. Download the latest version here. You also need to have JavaScript enabled in your browser.
Right-click to download the MP3 file (1 hour 6 minutes – 60.5 MB)
Did you like this interview? Scroll down to leave your comments and questions!
Operators
Here are links to some of the airlines flying in Tanzania (for complete listings, including Chief Pilots and contact info, see page 48 of the World AirNews 2011 African Airline and Major Operators' Directory— a great resource for all African operators!):
Other Resources:
Ebook
If you're interested in flying in Africa, be sure to check out an ebook called the Low Time Pilot's Guide to African Bush Flying, by Csand Paszka.
Magazine
Also see World AirNews magazine
Blogs
And, check out these blogs:
Flying in Tanzania for Safari AirLink
Bush Flying Namibia (Csand's blog … see the link to his ebook above)
Fliegen in Afrika (in German)