Scroll down for the audio interview!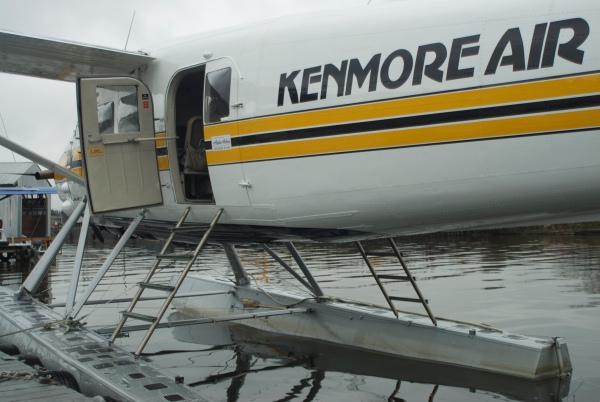 We've been planning this interview for a while now. We met John Gowey (and each other) back in 1993, when he hired both of us to work on the line crew at Kenmore Air Harbor. John had recently graduated from fueling and washing planes himself. While he was doing flight instructing and some Part 135 flying, he also managed the line crew. Over the years John moved up the ranks. Today, he's Kenmore Air's Chief Pilot.
One of the most well-known and respected floatplane operations in the world, Kenmore Air is based near Seattle, at the north end of Lake Washington. Kenmore is a family-owned business, and has been around since 1946 when three high school friends reunited after World War II to start the company. The seaplane operation offers scheduled and charter flights from two locations in Seattle to the San Juan Islands and Victoria, and to destinations further north on Vancouver Island. The fleet consists of Piper Super Cubs, Cessna 180s, de Havilland DHC-2 Beavers, turbine Beavers, and single turbine DHC-3 Otters (all on floats).
Additionally, some Cessna Caravan land planes are operated out of Boeing Field as Kenmore Air Express. While this interview concentrates on the seaplane operation, we'd like to throw in that Express runs two-pilot crews in the Caravans, and for lower time pilots that right seat offers a good way into the industry.
Kenmore is a large operation. In addition to flying passengers they offer flight instruction, sell aircraft and floats, sell parts, and have a well-respected maintenance department that specializes in rebuilding and maintaining Beavers and Otters. Numerous articles have been written about Kenmore's varied operations over the years, and magazines often feature photos of their classic aircraft.
Flying for Kenmore allows pilots to live in a big city (complete with all the big city advantages) while working like an Alaskan pilot during the day. In this interview we focus on what a job flying for Kenmore is like, and how to go about getting one. If you have an interest in flying floats–for Kenmore or elsewhere–it's well worth a listen.
In this interview you'll hear about:
How John found his way to flying, and to Kenmore.
Whether it's better to do your initial flight training on floats or on wheels if you want to be a seaplane pilot.
Why working on the line crew at Kenmore Air is such a unique job.
Why spending a summer or two flight instructing on floats is a great way to build your seaplane time.
Why Kenmore pays their instructors a salary, instead of hourly (and why it's great for the instructors).
What Kenmore looks for in a flight instructor's experience and personality.
Kenmore's fleet of Super Cubs, 180s, Beavers, Turbine Beavers, and Otters.
Why turbine aircraft are especially difficult to handle around the dock.
Kenmore's scheduled routes and charter destinations.
What a typical day is like for a Kenmore pilot.
The role of flight following and flight plans on flights into Canada.
Clearing customs at designated Ports of Entry.
How many full-time, seasonal, and part-time pilots Kenmore employs.
Why Kenmore pilots need instrument ratings, even though they fly VFR.
What Kenmore looks for in seasonal pilots.
The similarities and differences between float flying jobs in Seattle and in Southeast Alaska.
The unique "certified water aerodrome" in Victoria, B.C.
Kenmore's amphib Otter operation in the Bahamas in the late 1990s, and the challenges of flying in the tropics.
The unique challenges of being a floatplane pilot, and why you'll like it if you enjoy making your own decisions as a pilot.
Why good people skills are just as important as what's in your logbook if you want to fly for Kenmore Air.
Interview
Press the Play icon to begin streaming the audio, or right-click the text link and choose Save As or Save Link.
Audio clip: Adobe Flash Player (version 9 or above) is required to play this audio clip. Download the latest version here. You also need to have JavaScript enabled in your browser.
Right-click to download the MP3 file (49 minutes – 45.1 MB)
Did you like this interview? Scroll down to leave your comments and questions!
More Information