Scroll down for the audio interview!
Orcas Island has been called "the crown jewel of the San Juan Islands," and for good reason. It's a breathtakingly beautiful place about 75 NM north of Seattle. Ask anyone who's spent much time there and they'll tell you there's something about the island that can only be described as "magical."
When I moved to Orcas in the spring of 1991 for a job guiding sea kayaking tours, I had no idea that Rod Magner was also there, beginning his own adventure. He had just purchased his first airplane, a 1929 Travel Air biplane, with a vision of making a living selling rides out of the Eastsound Airport (KORS).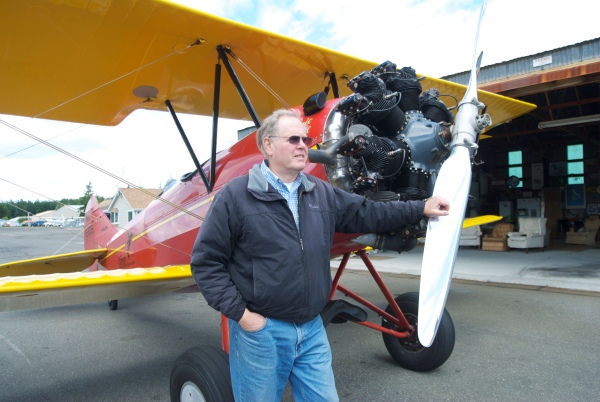 That summer, while I spent my days showing tourists the wonders of the San Juans from a kayak, Rod showed them the same land and seascapes from between the wings of "Magic One." His business plan for Magic Air Tours was the same simple plan barnstormers used back in the 1920s as they flew from town to town: take people on an exhilarating scenic flight for a fee. The difference in Rod's case was that his potential customers came to him … by the ferryload.
So it was that as I paddled around Orcas, every so often I noticed a red and yellow biplane flying by overhead. I loved getting paid to work on the water, but my heart usually skipped a few beats and I felt a longing I couldn't explain each time I heard that old radial engine in the distance and looked skyward.
I was an aviation romantic, and something of an aviation philosopher too. My college thesis, Why Pilots Fly, was in part based on the works of aviation writer Richard Bach. I knew that Richard lived on Orcas, and I eventually met him. What I didn't know was that Richard knew Rod, or that Rod was on Orcas because Richard asked him to move there. In fact, I didn't even know that Rod was the biplane pilot's name.
What I did know was that with most of my meager paycheck going to pay off my student loans, an airplane ride seemed rather frivolous at the time. Even a ride in a 1929 Travel Air. Before I knew it the summer ended, and I moved south to Seattle. Though I returned to Orcas the next summer too, though I saw the red and yellow biplane again and again, I never made the time to go meet the man who flew it.
In the years since, I've visited Orcas a handful of times. But it wasn't until this past June—20 years after I lived there—that it occurred to me to go say hello to the biplane pilot. I was spending a weekend in Eastsound with my sister, and on the way into town I drove past the airport. As we passed the Magic Air Tours hangar, I wondered if the owner would be interested in being interviewed for Oddball Pilot …
I parked the car and walked up to the hangar. Opening the door and peering inside, I felt a wisp of that Orcas Island magic envelop me. I actually shivered. The hangar looked like it was straight out of a movie about barnstormers, with photos and posters on the walls, and aviation memorabilia everywhere. Up front was the red and yellow biplane I had seen fly overhead so many times, so many years ago. She was even more beautiful up close.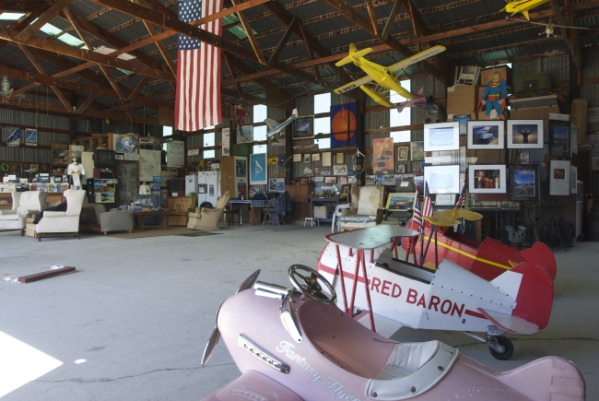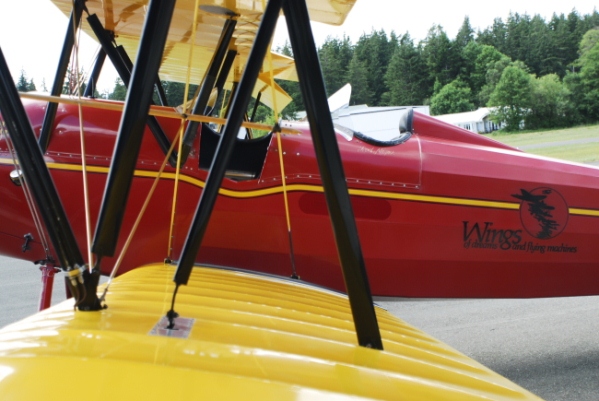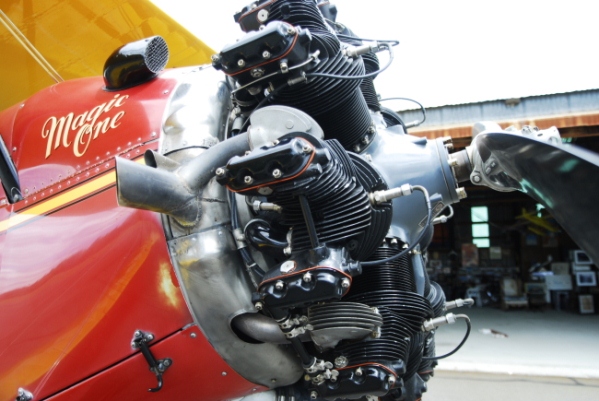 I found Rod in the office, and I introduced myself. We chatted a bit, and made plans for me to return the next day for an interview (with a caveat—if the blustery weather got nice, he'd be out flying).
That night I called up Aidan, who was finishing up a climbing trip in eastern Washington. He agreed to drive west, take an early morning ferry, and meet me and my sister for breakfast. Then we'd all head out to the airport and see if Rod was around.
When we got to the hangar the next day the Travel Air was out flying. We decided to stick around at least long enough for Aidan to see it, and to maybe set up an interview by phone sometime in the future. When Rod returned (with two passengers beaming from ear to ear), he told us that he had no other rides scheduled. Until he did, he had time to chat.
In this interview you'll hear about:
How Rod started flying gliders when he was 14, soloed in a Piper Cub at 16, and got his license at age 17.
Training in the T-34, T-2A, T-2B, and F-9 Cougar, and flying A-4s and A-7s in Vietnam.
Why landing a Travel Air is similar to landing on an aircraft carrier.
The history of Rod's 1929 Travel Air 4000.
How Rod produced a show called "The Philosophy of Flight" in 1976, and became friends with aviation writer Richard Bach.
How Rod ended up working with Richard to promote his book Illusions, and barnstorming with him around the Midwest.
How the Cessna 182 Rod planned on buying turned into a Travel Air.
How Rod figured out how much to charge to make the business work.
Magic Air Tour's flying season and daily schedule.
How the San Juans have been home to many aviation writers.
Why having a good mechanic is key when you own a really old airplane.
The 15 airborne marriage proposals Rod has made possible, and the one that didn't go quite according to plan.
Rod's routes, and what he says along the way.
His thoughts on the magic of flight.
The unique challenges of being a one-man operation.
The importance of spare parts.
The challenges of deciding when not to fly.
The challenges of landing the Travel Air (and the brake modifications Rod made to make it easier).
Rod's best advice for you if you're interested in starting a business flying biplane tours.
Don't let his resume fool you. A degree in economics, five years flying A-4s and A-7s for the Navy, and many years doing marketing may have given Rod the hard skills he needs to run a one-man scenic air tour operation. Yet it's his passion and people skills that have made Magic Air Tours a success all these years. He sees himself as far more of an artist than a businessman. As he wrote in the Orcas Island Artists Registry in 2000:
"My whimsical Aerosculptures include the elements of cloud, wind, water, 'G' force, music and folklore in a delicate, yet powerful, ephemeral performance which disappears as it is created yet is never forgotten."
Magic Air Tours is not a typical aviation company, and Rod is not a typical pilot. If you love flying for flying's sake, if you've ever fantasized about making a living as a modern-day barnstormer, listen in …
Interview
Press the Play icon to begin streaming the audio, or right-click the text link and choose Save As or Save Link.
Audio clip: Adobe Flash Player (version 9 or above) is required to play this audio clip. Download the latest version here. You also need to have JavaScript enabled in your browser.
Right-click to download the MP3 file (47 minutes – 43.3 MB)
Did you like this interview? Scroll down to leave your comments and questions!
More Information
Videos
We came across the following videos about Rod and Magic Air Tours.
Coming soon … our own video walkthrough of the Travel Air 4000 with Rod!
Simulation
You can easily create your own "magic air tour" over the San Juans with these add-ons for Flight Simulator X:
Orbx's Pacific Northwest scenery
Orbx's Eastsound Airport (KORS) and Orcas Island scenery
Bill and Lynn Lyons' freeware "Magic One" Travel Air biplane