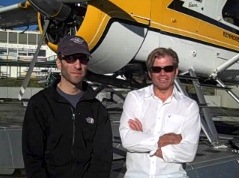 Aidan and I recently got together to answer some of the most interesting and frequently-asked questions we've received over the past few months.
In this first Q&A session we talk about:
The Oddball Pilot Network
Becoming a commercial pilot in your 40s or 50s
The minimum flight time necessary to get your first job as a pilot (in the U.S. or abroad)
The importance of making personal contact with potential employers
Whether you can be overeducated for an oddball flying job
Whether Era Alaska is still looking for pilots (and what they're looking for)
Getting flying jobs in other countries
Transitioning to the Cessna 406
Humanitarian aid flying
Audio
Press the Play icon to begin streaming the audio, or right-click the text link and choose Save As or Save Link.
Audio clip: Adobe Flash Player (version 9 or above) is required to play this audio clip. Download the latest version here. You also need to have JavaScript enabled in your browser.
Right-click to download the MP3 file (29.5 minutes – 27 MB)
Have questions of your own? Add a comment below (or in any post). Or, send us a message using the form on the Contact page. We'll try to get you an answer in our next Q&A session.
Better yet, become a member of Oddball Pilot, get access to the Oddball Pilot Network, and hear what oddball pilots from around the world have to say!