Tales of the Gold Monkey tells the story of oddball pilot Jake Cutter–a former Flying Tiger who now hauls people and cargo in a Grumman Goose around a fictional chain of islands in the South Pacific. Although somewhat dated and cheesy, the TV show (that aired for one season on ABC back in 1982-83) is a fun depiction of what many Oddball Pilot readers might consider an ideal fantasy career.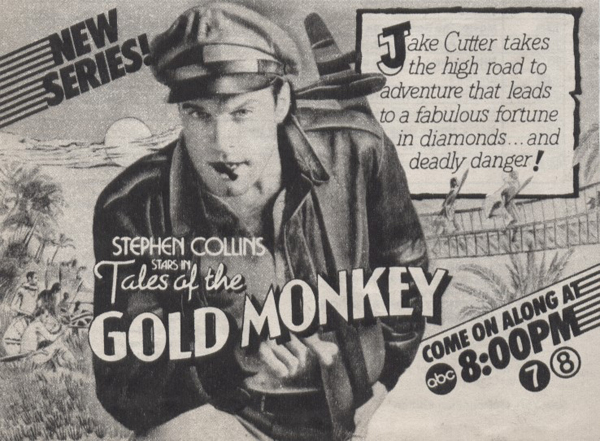 Jake lives by his wits, fists, and stick and rudder skills (and the generous debt-forgiveness of the cosmopolitan yet quietly steely French bar owner, Bon Chance Louie). The series takes place in 1938, just prior to World War II. Louie is the magistrate of the French sector but it's surrounded by Japanese territory, so there's no shortage of international intrigue, Nazis, spies, and, well … samurai.
The show has its heart in the right place, even if it's a bit rocky at times. It only aired for one season, and it definitely starts to find its feet and develop the characters throughout. Critics compared Gold Monkey to Indiana Jones, as it depicts a similarly adventurous setting and features Westerners coming into contact with the exotic cultures of the unexplored East. And Jake Cutter does possess a similarly rogue-ish charm as Indiana Jones, while being a solid friend and courageous hero. But in fact, rather than being a copycat the Gold Monkey concept had existed for years. It was actually pitched to the networks in 1979, a few years before Raiders of the Lost Ark was released. That said, the popularity of Raiders finally convinced the studios to put the show into production. If it reminds viewers of Magnum, P.I. in its overall style, it's with good reason: Donald P. Bellisario created both shows.
Joining Jake in most episodes are his friend and mechanic Corky, a spy named Sarah, and most amazingly, a dog named Jack. Corky is the type of character that you won't find on TV anymore, as he's a good-natured drunk/recovering alcoholic. He loves aviation and the Goose, and single-handedly keeps Jake's plane flying. He's an unusual character, meant to add humor in an innocent 1930s style. It's somewhat shocking today how simply his problems are treated, but that's probably not as dated as some other aspects of the show.
Sarah is an intriguing character. As a spy for the US government, her activities often drive the events of the show. Somewhat disappointingly however, she typically ends up simply screaming for Jake to save her, rather than fulfilling on her promise as a potentially stronger, more capable character.
Jack, the dog, is a marvelous character. He can only indicate yes or no through his barks, but he constantly adds humor and wit in doing so and is an impressive part of the writing.
The expanded cast of characters who serve as opponents and allies to the protagonists tread on more questionable ground. Adventure tropes, like the Dragon Lady, cannibal tribesman, Nazis and so on abound. They may be true to the genre, but they're less acceptable in today's world. Plots follow along similar lines, like dodging killer monkeys, crossing treacherous rope bridges, and outwitting Japanese fighters.
Still, the show adds poignancy and complexity in later episodes, and it's evident the creators were trying to make a darker show than the networks were pushing for. Production interviews suggest the network pushed for more of the standard adventure clichés, while the writers wished to dig into the characters and intrigue. Undeniably, there is a lack of sensitivity which may be offensive today around the depiction of various races , yet it's hard to argue against the excitement many people feel about an unexplored globe where navaids are few and far between, and swooning members of the opposite sex wait around every corner.
Astute readers already will have noticed a slight inaccuracy, of which the show has more than a few. The Flying Tigers, or 1st American Volunteer Group, didn't exist until 1941. So the fact that Jake has previously flown for them and seen combat against the Japanese doesn't really fly (pardon the pun). Similarly, the aviation footage varies in quality and accuracy. I didn't review it with a fine-tooth comb, but I had the sense many shots of "Zeroes" were really other planes dressed up for the part, and a fair amount of footage from movies got spliced into each episode too. There are some lovely matte paintings of the Pan Am Clipper, as well as some stock footage of it. And what show isn't enhanced by the inclusion of the Clipper?
The best shots are of the Goose, although they do get repeated here and there. She definitely catches the eye as she flies around Hawaii, where the series was filmed. The main control on the Goose appears to be the throttles, since Jake reaches for them anytime there's trouble. Still, the flying isn't so unrealistic, the drama often coming from weather or fuel issues rather than constantly exploding engines. Oh, and scrapes with those Zeroes are never far away.
In research for this review I learned that the Goose was originally built as corporate transport for millionaires commuting into New York City. Can you imagine an amphibious Gulfstream today? The Goose fits the show perfectly, being rugged, amphibious and an absolute classic.
Jake pulls plenty of long hours, often loads his cargo himself, and slogs through both stormy weather and bureaucratic messes–so oddball pilots should find plenty to appreciate. Throw in lots of brawls, dogfights, romance, and international espionage–and a chance to see beautiful exotic destinations–and you have a solid recipe for aviation fantasy entertainment.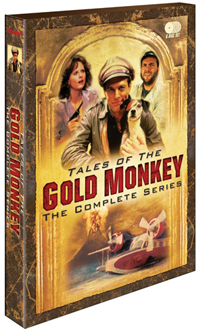 The complete series is available on DVD from Amazon. The package includes the original 96-minute pilot, a gallery, an episode and series synopsis, biographies, a 26-page collector's book, and a new 30-minute "Making of" documentary.
If you become a really big fan, you might also be interested in the Tales of the Gold Monkey Storybook.
To learn more about the development of the show, check out John Kenneth Muir's great "Tales of the Gold Monkey Retrospective."
To learn more about, well, everything Gold Monkey, visit GoldMonkey.com.
If you can stand the cheesy, early 80s style, Tales of the Gold Monkey will grow on you—whether you already have some oddball piloting in your logbook, or just dream about it.
Contributing writer Justin Woods is a game designer and an award-winning filmmaker and writer. He's currently building interactive solutions for flight training.