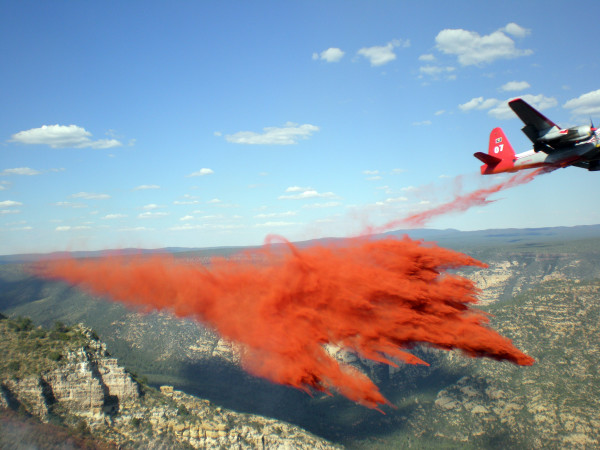 Recently, I flew in to KWLW (Willows Airport in Northern California) for lunch. Nancy's Cafe is the big draw here for aviators. But under an over-grown shrub off the ramp, I found a piece of history. A plaque describing the birth of aerial firefighting in California shows the 10 men who first pioneered what's become a critical, modern resource for battling wildfires throughout the nation, especially in the West. They made their first air drop with a Boeing Stearman 75 Caydet on the Mendenhall fire on August 12, 1955 after working to get it right at Willows.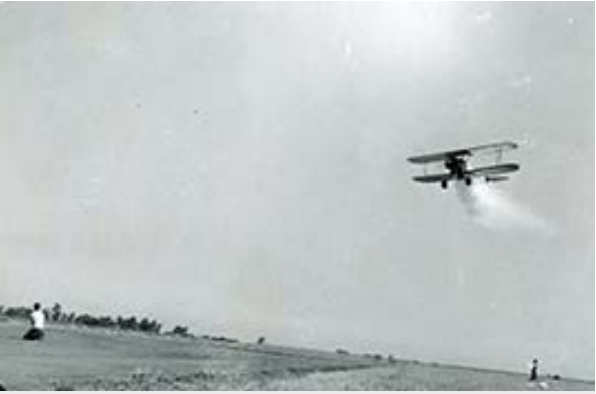 Three states currently operate or are actively setting up their own fleets of aircraft: California, Colorado, and Oregon. CalFire is regarded as the aviation model to which other organization aspire, and is perhaps the largest civilian air force around. Living only a few miles from one of their 13 air attack bases, I frequently see them operate S-2's airtankers, and OV-10 airtactical aircraft. (They also operate UH-1H Hueys helicopters from 9 helitack bases.) A few years ago, I even watched up close as they dropped retardant (a slurry made up of a chemical salt compound, water, clay or other gum-thickening agent, and a distinctively red coloring agent) to slow a fire moving dangerously close to my house.
These oddball pilots are certainly a special breed. News coverage of Desiree Horton becoming the first full-time female pilot for CalFire is both interesting and educational if you're interested in the journey to becoming an aerial firefighter:
A quick survey of CalFire's website and a few others show similar entry requirements.
Entry-level CalFire applicants need at least a Commercial license with multi (for fixed-wing) and instrument ratings, 1,000 hours of PIC, and additional prior experience such as working for a state or government agency, or 500 hours of specific low-level ops experience, such as search and rescue or medi-vac. You can expect to take an exam before any interviews begin. CalFire receives about a thousand applications each year, so the competition is steep.
However, CalFire and all other states contract with a huge variety of companies that bring specialized aircraft and skills to the table. You'll find steep competition for these jobs too, and perhaps even higher experience requirements. For example, the careers page at Dyncorp, the company providing the fixed-wing pilots and maintenance for CalFire, requires  a minimum of 1,800 hours PIC time and other specific experience, like mountain flying. Other agencies might have different minimums. But, despite the high requirements, there are jobs out there where you can get experience, and get paid.
Here are a few starting places we found for you:
National Interagency Fire  Center
This 15-minute video gives you a first-hand intro to various firefighting aircraft and operations.
U.S. Forest Service Fire and Aviation Management
The U.S. Forest Service site helps you quickly find out about fixed-wing, helicopters, and Modular Airborne Firefighting Systems, you'll also find info on the Forest Service's interest in the use of unmanned systems. You'll find links to jobs, training, and other aviation links.
Fire Aviation
The Fire Aviation site is well-thought and contains news and opinion about aerial firefighting. And, there's a pretty nice page with links to potential employers, agencies, and firefighting retardants. (If you're serious, you need to know this stuff.)
Aerial Firefighting.com
This site about aerial firefighting offers a few hundred links to a big variety of outfits employing fixed-wing and helicopters, as well as other interesting stuff.
Look for us to publish interviews with aerial firefighting agencies and firefighting oddball pilots in the near future.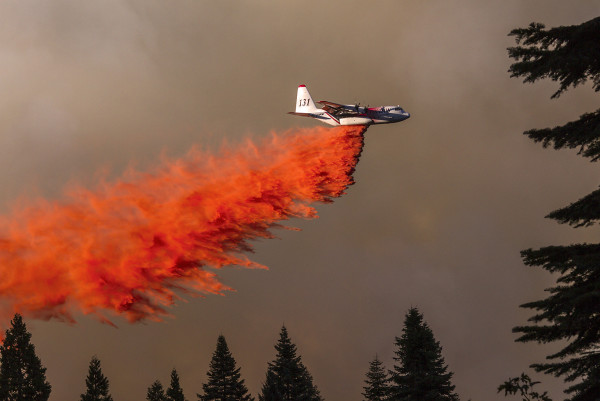 Fire retardant drop photo by USDA Forest Service, Coconino National Forest licensed under a Creative Commons Attribution-ShareAlike 2.0 Generic License.
1955 airdrop photo from the Willows-Glenn County Airport Master Plan, August, 2008.
C130 air drop photo by USFS Region 5 licensed under a Creative Commons Attribution-ShareAlike 2.0 Generic License.