Airshow season is in full swing. I'm getting ready to go find great stories at AirVenture 2015, which got me thinking, how does someone become a full-time, career airshow pilot? Pilots who make their living flying on the airshow circuit all have a different story about how they got there. Yet, it's fascinating to learn that they have similarities too. Like, even some the most famous show pilots have other jobs in the off-season too.
I did some poking around, and here's what I've assembled about the journey to becoming an airshow pilot. I'll be thinking a little differently at AirVenture this year as I watch the oddball pilots who entertain us during the day (and night!) at airshows.
"So You Want to Be an Airshow Pilot: First, get a high-paying day job"
By Phil Scott in Air & Space magazine
Phil gives a real feel for what the journey's like. Even Sean Tucker didn't get to be Sean Tucker over night. (Really. You can ask him!)
"New kid on the ramp: Will Allen, Rock and Roll Airshow Man"
By Meg Godlewski in General Aviation News
Meg describes how one pilot worked really hard against the odds to merge his passion for aerobatics and music into professional airshow performances. Side note: Mike and I worked with Will back in our Microsoft Flight Sim days. We can still hear him talking about wanting to some day becoming an airshow pilot. It was too easy for us to be skeptical, but he really did it. It's a great lesson in perseverance. Welcome to the big time, Will. Learn more: Will Allen Airshows
"I Want to Do What You Do"
By Mike Goulian on the Goulian Aerosports site
Yeah, that Mike. He offers details about getting started, getting to the top, being in Red Bull Racing, getting sponsors, and his two cents, which might be worth considerably more than that.
"How To's (and NOT-To's) For The Airshow Pilot"
By Northwest Council of Airshows on the Northwest Council of Airshows site
This isn't a guide to the journey, but the short advice dispensed here provides interesting, straight-forward insights into what the job entails.
"The Life Of An Air Show Pilot: When you love what you do, is it work?"
By Patty Wagstaff on Plane & Pilot's site
Yeah, that Patty. She should know. This article gives you a first-person glimpse into the work. "… behind every big top is a parallel universe where a million mundane things happen."  Mundane? I think not. But realistic? Yes, Patty does know the biz.
"How to become an air show pilot"
By Frank "Woody" van Houten on the Dutch Rush Aerobatics site
Woody offers an very detailed and thorough guide in PDF format with a table of contents that includes topics on the act, the audience, safety, regs, and (very importantly) what's in it for you financially.
"I want to be an air show pilot. What will my salary be?"
By Jared Lindzon on The Globe and Mail site
Jarad offers a Canadian perspective on the hard road to becoming an airshow pilot. Spoiler alert: "Becoming an air show pilot is a career path that costs a lot of money before it returns any, if at all." We didn't say it'd be easy, but there are success stories out there. Like the story above about Will Allen.
A Few Other Interesting Links
If you have some to suggest, please let us know!
International Aerobatic Club
The International Aerobatic Club, Inc. is responsible for the administration, management, and promotion of the sport of aerobatics in the United States under the applicable regulations of the Federation Aeronautique Internationale
Tutima Academy of  Aviation Safety
Sean Tucker's academy for in-depth study of aircraft control, focusing on aerobatics and confidence training. This is the place to learn from a master.
British Aerobatic Academy
The British Aerobatic Academy is the only aerobatic academy in the UK.
BruceAir
We've known Bruce Williams for a long time, and he's a consummate aviation professional. His website offers a lot of info about aerobatics (and a great many other things). If you're in the Seattle area between May and September, and you're interested in learning more about aerobatics, you might consider going for a ride with him in his Extra 300L.
Gareth Bliss
Not all airshow flying is aerobatics! Back in May of 2014, Aidan met up with one of the first Oddball Pilot members, Gareth Bliss, who found his way from aviation, to an IT career, and then into the right seat of a Consolidated PBY Catalina on the airshow circuit in Europe. Check out Gareth's Member Spotlight, listen to his Q&A Session for Members exploring how airshows work, and watch a video walkthrough of the Catalina.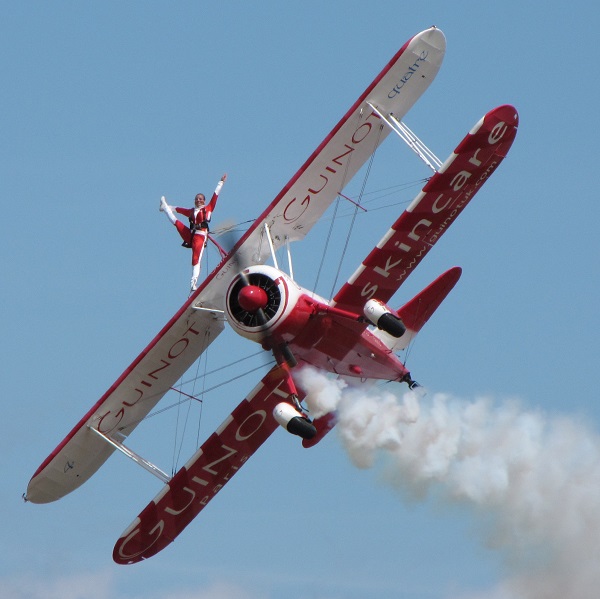 Iron Eagle close pass photo by Lane Pearman, licensed under a Creative Commons Attribution 2.0 Generic License.
Ladies of the air wing walking photo by Stuart Caie, licensed under a Creative Commons Attribution 2.0 Generic License.