In 2011, Aidan interviewed pilots with the National Oceanic and Atmospheric Administration (NOAA). These are the folks who routinely fly into hurricanes. They also conduct many other interesting research projects and data-gathering missions while flying a variety of interesting aircraft. Aidan caught up with Brad Fitzler and Rob Mitchell back then while they were flying a Twin Otter in Barrow, Alaska. In that interview, they talked with Aidan about what NOAA does, how they became officers in the Corps, the missions they fly, and took Aidan along on a video walkthrough of their Twin Otter. Be sure to check those episodes out! Both are packed with great stuff.
Now, five years later, we catch up with Brad and Rob to see how their careers have progressed. Brad worked as an aviation advisor before transitioning back to fly the Gulfstream IV. Rob moved from the Twin Otter to the P-3 Hurricane Hunter. Both of their stories are interesting and inspiring … and, they offer another glimpse into the important contributions that the NOAA Corps makes every day.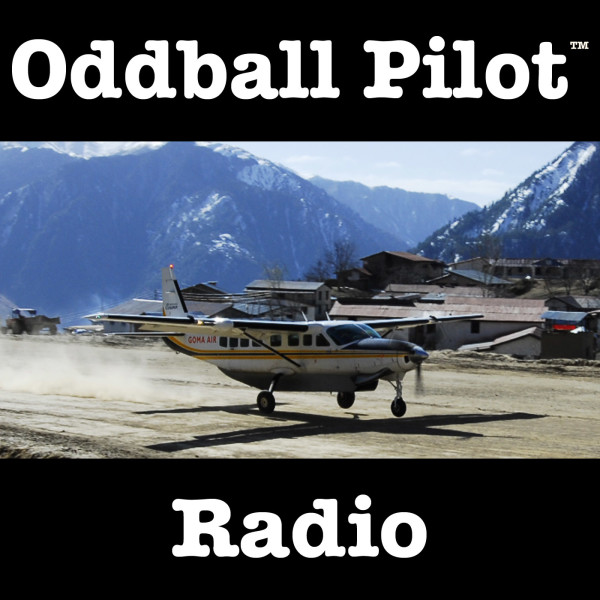 In this episode, we talk with Brad and Rob about:
How their careers and adventures have progressed since 2011
The NOAA Corps, the officers in it, and how these two pilots got started with the Corps
The primary reason for having a NOAA Corps of officers
How most NOAA officers serve on ships, but a smaller subset are aviation officers
The various aircraft NOAA flies, and what missions they perform
The mission of the NOAA Corps … a rather unique service … and the smallest of the uniformed branches
Why NOAA aviation, with their NAVY rank designations, are stationed at an Air Force base in Florida
The time when NOAA crews flying a hurricane mission had no place to come back to during hurricane season
Why NOAA flies aircraft other than the P-3 Hurricane Hunter
What it's like to flying into a hurricanes … why do they do that anyway?
What Brad and Rob have done since flying the Twin Otter in 2011
Transitioning to a staff job … and why a non-flying job is important and enjoyable
Brad's transition back to flying the Gulfstream IV, and the training process for qualifying in that aircraft
What roles that Gulfstream plays in flying in and around storms … and what the equipment the crew uses to gather data about the storm
How Rob's career progressed from the Twin Otter as an aircraft commander and instructor to the new challenges that that experience opened up
What it's like to be involved in the aftermath of a major disaster
How being selected for the P-3 bought Rob 2 years in the Navy … and why that was important
How flying the P-3 can (and potentially can't) have a positive impact on Rob's career
Why there's not a single career path in the NOAA Corps
The outlook for each of their careers in NOAA
What might come after NOAA with respect to a civilian career
How the data they collect has a direct channel back to our society … and how that data benefits everyone in the US on a daily basis
How the data that NOAA collects specifically equates to financial resources and lives being saved when weather disasters strike
How weather influences their day to day schedules
How they respond to weather events, and how NOAA gets involved so rapidly
Mission planning for rough weather … how does a go, no-go decision get made? Is there such a thing as a no-go?
How flying in violent weather requires "thinking on your feet" to be successful … and when things don't go as planned
How a typical mission works for flying into a hurricane
Who on the crew forecasts the hurricane weather they'll fly into, and other mission planning considerations for flights into hurricanes
What happens once the P-3 enters the eye of the hurricane
How pilots acclimate to the rough conditions of flying into hurricanes
What it takes to become a hurricane-qualified P-3 pilot
Why NOAA flies a P-3, and not a C-130 like the Air Force
As a finale, Brad and Rob:
Respond to the most difficult question posed to NOAA pilots by Oddball Pilot
Answer the second most difficult question … and it involves, a song?
In addition to using the player above to listen to this episode, you can:
Have some thoughts or a question about this episode? Leave a comment below.
More from NOAA
To learn more about the NOAA Corps, see the NOAA Commissioned Officer Corps website.
To follow the aeronautical happenings at NOAA and to see some really cool photos, check out their social media channels:
Facebook page for the NOAA Hurricane Hunters
Facebook page for the NOAA Office of Marine and Aviation Operations
NOAA Marine and Aviation Twitter feed
NOAA Marine and Aviation flickr pages
Eye Candy
Here's the NOAA aviation fleet, and the mighty duo (P-3 and Gulfstream IV) prowling for hurricanes. And, a video taste of what it's like flying into a hurricane.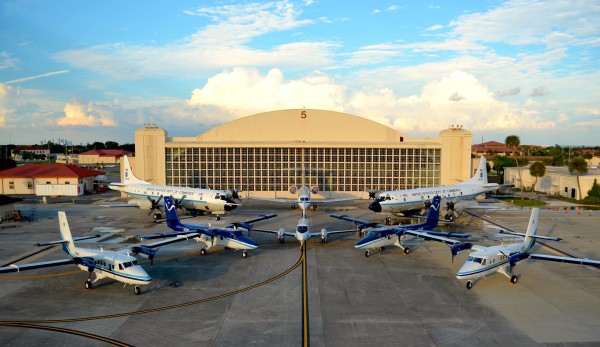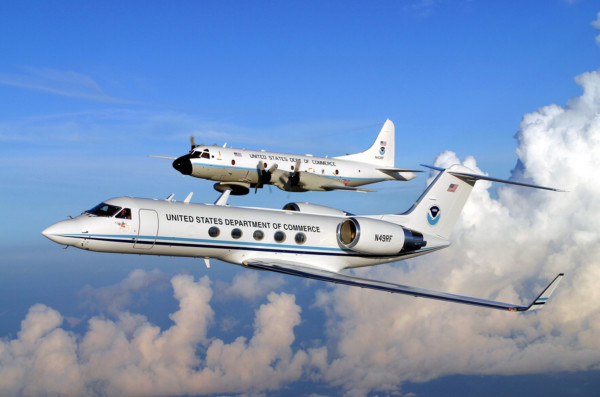 NOAA Fleet aircraft photo provided and used with permission by NOAA.
P3 and Gulfstream photo from NOAA Photo Library under Creative commons attribution 2.0 generic license.