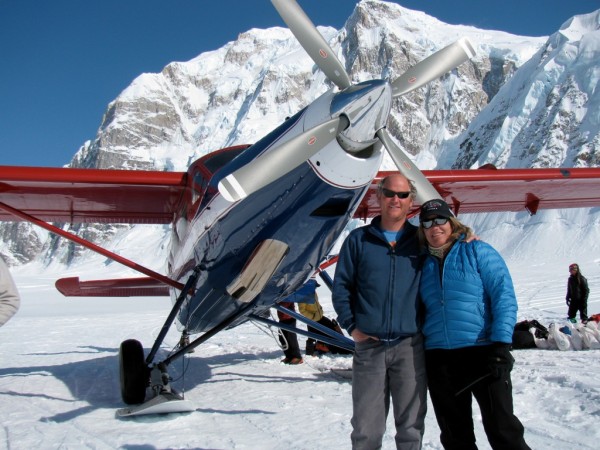 Photo: Paul Roderick with his sister Lisa at Kahiltna Base Camp, the starting point for Denali climbers. Lisa is the Base Camp manager.
Our first Oddball Pilot interview is with Paul Roderick, owner and Director of Operations of Talkeetna Air Taxi in Alaska.
TAT has been around since the early days of Alaskan flying, helping pioneer flights to Mt. McKinley, finding glacier landing sites, supporting climbing expeditions, and assisting with mountain rescues. Today the company also provides more extensive expedition support, including logistical support, route checks, and helping climbers recon new routes.
In this interview, you'll hear Paul talk about:
How he became the owner of TAT
His initial impressions of glacier flying
How the business has changed over the years
What he looks for when hiring new pilots
What the pilot schedule and lifestyle is like
His favorite aircraft to fly
Finding new landing areas on glaciers
The challenges of glacier flying
TAT's relationship with other operators in Talkeetna
Gaining experience and learning good judgement as a glacier pilot
Managing risk
How he finds new pilots
Talent vs. flight time
The importance of intuition and the ability to feel
Life in the off-season
Interesting resumes he's received
How to get a job flying in Alaska
Press the Play icon to begin streaming the audio, or right-click the text link and choose Save As or Save Link.
Audio clip: Adobe Flash Player (version 9 or above) is required to play this audio clip. Download the latest version here. You also need to have JavaScript enabled in your browser.
Right-click to download the MP3 file (44 minutes – 20 MB)
Did you like this interview? Leave your comments below.
Be sure to also check out our Talkeetna Air Taxi Aircraft Walkthrough video, in which Paul introduces you to two of the most rugged bush planes in existence: the DHC-3 Turbine Otter and DHC-2 Beaver!