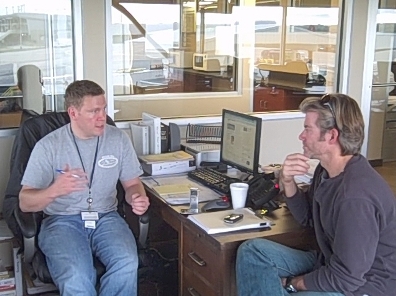 Scroll down for audio interview!
Hageland Aviation Services started with Mike Hageland and one C-180 in Mountain Village, Alaska. Over the years the company has grown considerably and in 2008 it merged with Frontier Flying Service (a Fairbanks-based airline) into HoTH. In 2009, the new company bought Era Aviation and Arctic Circle Air. Currently this group, now called Era Alaska, is the largest air carrier in Alaska. Era Alaska also employs the most pilots, making them one of the best companies to apply to for a flying job. Era Alaska is now owned by Mike Hageland, Jim Tweto, and the Hajdukovich family. For a full history visit the Era Alaska web site. If you've been watching the Discovery Channel's Flying Wild Alaska, you've already seen Hageland in action.
I worked for Hageland for more than a decade, beginning in the mid '90s. I always liked working for Jim, Mike, and Ron (Ron Tweto was Jim's brother and died in a plane crash in Arkansas). They valued hard work and were more than willing to work alongside their pilots. It wasn't unusual to land in Unalakleet and have Jim fueling your plane and Ferno looking at a sno-go that needed loading, all the while insisting that you go inside and grab a cup of coffee. I'm sure some of this has changed as the company has grown, but I'd bet that the willingness to jump in and do whatever needs to be done is still alive and well.
It used to be that you just talked to Ron or Jim about a job and the next thing you knew there you were flying out of Bethel. Unfortunately this has changed. Now your best chance of getting hired is to walk a resume into the main office, located at the Anchorage International Airport (PANC) and talk to JR Beans (the Chief Pilot) or Jason Wilson (the Assistant Chief Pilot). They are both very approachable, but be aware they are also very busy and may not have much time to chat. Be persistent! (There is also a hiring board to get through before you are finally offered a job. At some point we'll have a talk with one of the members of this board and see what they are looking for.)
Once you are hired there are the normal Part 135 hoops to jump through: ground school, flight training, check rides, Initial Operating Experience (IOE), etc. Then you are assigned a base: Bethel, Aniak, St. Mary's, Unalakleet, Nome, Kotzebue or Barrow.  If you are a low time pilot (1,000 hours or less), expect to fly as a co-pilot in a Caravan or BE-1900 until you have the minimums for a C-207 slot.
The company runs a 2 week on/2 week off schedule with ample opportunity to work extra, or possibly trade days around and get some extra days off. Pay is based on a daily rate that is based on seniority and the aircraft you fly. When you are on shift you are paid whether you fly or not. This makes the bad weather days much more fun. We'll have to get back to you with a pay scale, but I think a new 207 driver can expect to make $3,600 per two week shift, and an experienced 208 driver about $5,000.
Overall I think this is an excellent company to work for. I'm sure there are plenty of gripes from the pilots but that's pretty normal for any airline. I can tell you from experience the grass is NOT always greener, and the Hageland crowd are a good group of people to work for with decent pay and good time off.
This past summer I stopped by Hageland's office in Anchorage, and sat down with Jason Wilson to bring you the latest scoop on how to go about getting hired. (We were going to wait a bit and spread out the Era posts, but we've been getting a lot of questions about this … due no doubt to all the Flying Wild Alaska buzz. The show just got renewed for a second season, by the way!)
In this interview you'll hear Jason talk about:
The company's Caravan co-pilot apprenticeship program (SIC) for low-time commercial pilots
The best way to deliver your resume
The minimum flight time requirements to get hired
How long it takes from SIC in a Caravan to Captain in a Cessna 207
What bases you're likely to work at first
The work schedule (two weeks on/two weeks off)
The pay scale
Additional opportunities while you're an intern
Pilot housing
Why it can help to start working on the ramp
The seniority-based system
What the hiring board looks for
How the hiring process works
How long it usually takes to go from ground school to flying
How many people typically get hired a year
How much moving around you'd do from base to base
The most important personality trait pilots need to have to succeed
When a "duty day" starts and ends
How many hours a day pilots typically fly
The advantages of flying for Era Alaska over flying for a major airline
Press the Play icon to begin streaming the audio, or right-click the text link and choose Save As or Save Link.
Audio clip: Adobe Flash Player (version 9 or above) is required to play this audio clip. Download the latest version here. You also need to have JavaScript enabled in your browser.
Right-click to download the MP3 file (20 minutes – 9 MB)
Did you like this interview? Leave your comments and questions below.