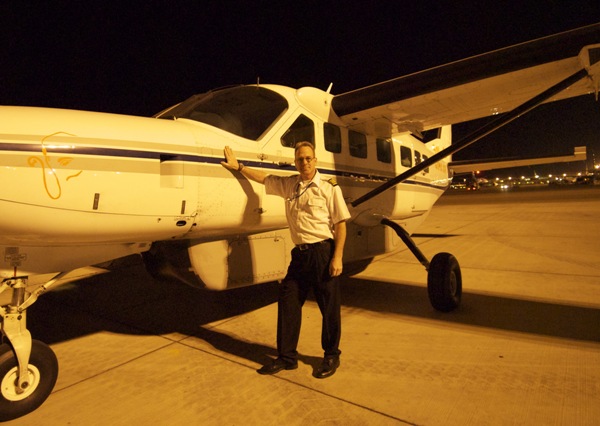 Scroll down for audio interview!
I first Met Alex Haynes back around 2002. I was flying in Nome, Alaska for Hageland Aviation and Alex showed up with an amphib Caravan bound for China. Over several beers at the Breakers Bar, Alex swapped stories with us about flying in Alaska, Africa, and delivering planes worldwide. At this point the wandering bug was still growing inside my brain. It wasn't until several years later that the bug bit hard, manifesting as a need to climb mountains in remote areas of the world.
Unfortunately, climbing and guiding doesn't produce a lot of income. Plus, if you've ever tried to stop flying cold turkey, you know that withdrawal sets in rather quickly. Before long you miss the sunset from the air, or the bizarre shapes the clouds form. So, looking for some income between guiding trips, and a way to reconnect with the disconnected world of aviation, I started making some phone calls.
Several calls later I found a co-worker from my days flying skydivers. Adam had moved from being a jump pilot, to flying in Alaska, to the aircraft delivery business. It turned out that Alex was the one who had gotten Adam into the ferrying business, and they were both flying for a company based in Florida. A few more calls and a month later the owner found a plane for me to deliver. Alex would be my mentor pilot for the flight.
After dropping the two planes in Tanzania, Alex and I stayed in touch. Typical of the ferry flying world, we would miss running into each other by days or sometimes hours. But we both spent time in the Seattle area and had a common interest in climbing. So we would periodically text each other from opposite sides of the world.
If you've read my last dispatch you know that a chance came up for us to ferry two Caravans to Nepal. Flying with another plane takes a lot of the monotony out of the long legs, and gives you someone to work with in case of a problem. Alex and I jumped at the chance, and off we went.
After a day or so to recover from sleep deprivation, I forced Alex to sit down with me on the (windy) roof of our hotel in Kathmandu to discuss the ins and outs of ferry flying. He insists that his 145 international deliveries don't qualify him as an expert. It's certainly true there are plenty of pilots with more deliveries. However, Alex's experience is far beyond what most of us will ever achieve, and I found his thoughts very helpful. I hope you do too.
In this interview you'll hear Alex talk about:
How he got into ferry flying.
Why ferry flying takes more than just knowing how to fly airplanes.
Why going to a top aviation university doesn't teach you what you need to know to be a ferry pilot (and isn't really necessary if that's what you want to do).
What kinds of planes he's flown as a ferry pilot.
How Europe is the biggest market for ferry flights, and the two typical routes to get there from the U.S.
Why so many aircraft are ferried from the U.S. to other countries.
Why it's much more difficult to ferry aircraft back to the U.S. from abroad.
What the lifestyle of a ferry pilot is like.
How he juggles ferry flying with marriage and kids.
The highly competitive nature of the ferry flying business.
Why in spite of the competition, ferry pilots help each other out.
The different types of delays that ferry pilots experience.
The roles that aircraft type, pilot experience, a willingness to be flexible, and the ability to think strategically play in avoiding delays.
Why he likes ferrying turbine aircraft the most.
The big difference between ferrying jets and smaller aircraft (in terms of what you need to bring along).
Why you need to be willing to ferry Cessna 172s and Piper Archers if you're just getting started in the ferrying game.
What it was like for him to ditch a 172 in the ocean halfway between the Azores and Spain, how his training took over, what it was like to spend 4.5 hours in the water, and how he got rescued.
How often light planes crossing oceans are lost at sea, and why.
His biggest piece of advice if you're serious about becoming a full-time, professional ferry pilot.
The most common mistakes novice ferry pilots make, and how it costs them (and/or their employers) money.
Why it's important to start by ferrying smaller planes (even if you have experience flying larger ones).
How much experience you need to qualify for insurance.
What it takes to make a good living as a ferry pilot, and how many planes a month you'll typically move.
Press the Play icon to begin streaming the audio, or right-click the text link and choose Save As or Save Link.
Audio clip: Adobe Flash Player (version 9 or above) is required to play this audio clip. Download the latest version here. You also need to have JavaScript enabled in your browser.
Right-click to download the MP3 file (52 minutes – 20 MB)
Did you like this interview? Leave your comments and questions below.