One of the great things about oddball flying jobs is that you frequently see oddball things. Taxiing out to runway 18 the other day here in Talkeetna, I was greeted by the image of an old wrecked tail of some aircraft just off the taxiway. After assuring my worried passenger that such a fate was a rare occurrence and was not likely to happen on our flight, I started to wonder just what was going on.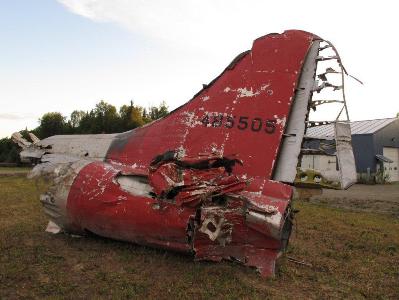 After returning to Talkeetna I did a little research. It appears that the Champaigne Aviation Museum in Ohio is rebuilding a B-17. Evidently a B-17 crashed near Talkeetna during WWII. The folks from Ohio have been up here hoping to salvage some rare parts left on the wreckage to help them finish up there project plane back home.
You can see the salvage operation in action in this news report by an Anchorage TV station:
http://www.youtube.com/watch?v=IYNTXZ92nCk
You can read more about their salvage effort in Talkeetna on their blog.
Learning about this led to many of us here at Talkeetna Air Taxi to think about all the planes that were ferried through Alaska during WWII enroute to Russia as part of the Lend Lease program. The success of the program is remarkable considering the experience level of the crews, the lack of navigation aids, and the routinely poor weather enroute.
Yesterday, during a particularly grim weather day up here, one of our pilots at TAT dug up an old NOVA program that documents the recovery of a B-29 in Greenland that suffered a similar fate as our B-17:
B-17 pilot jobs are pretty hard to come by today, but you can still fly in a Fortress. The Experimental Aircraft Association offers a B-17 Flight Experience, as does the Collings Foundation, and the Arizona Wing of the Commemorative Air Force.
If you want some stick time, Mike tells me that, "There's a hyper-realistic add-on aircraft for Microsoft Flight Simulator X made by A2A Simulations that's as close as most of us will ever get to a real B-17 cockpit."
The promotional videos, and the add-on itself, are worth a look if you've ever wondered what it was like to fly a WWII bomber: