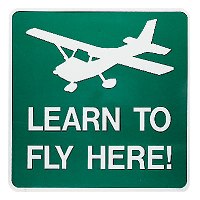 It seems like Discovery's Flying Wild Alaska and National Geographic's Ice Pilots are doing for bush flying what Topgun did for military aviation back in the 1980s: everybody wants to be a bush pilot. Not surprisingly, in the past few months we've gotten a bunch of questions about flight training in Alaska.
That got us thinking. Surfing the web looking for information about flight schools can take a lot of time, so we thought we'd make it easy for you by creating a directory of flight schools around the world that teach oddball flying skills.
Given all the interest in Alaska, we thought we'd get things started by focusing on schools in America's largest (and least densely populated) state.
We've broken the list into three categories:
Mountain Flying, Float Ratings, Taildragger Endorsements, Off-Airport flying, and Ski Flying
Primary, Instrument, Multi, Commercial, and CFI
Helicopter Training
Some of the schools are large structured part 141 schools. Others are smaller and tend to focus more on bush flying.
Whether you're interested in working in Alaska, or just dreaming of heading up there to learn some new skills, take a look at your training options.